These all seem like nice offices for an Architect: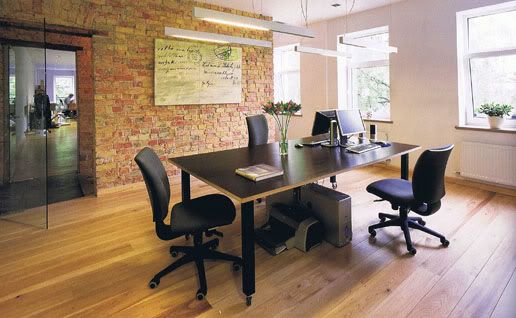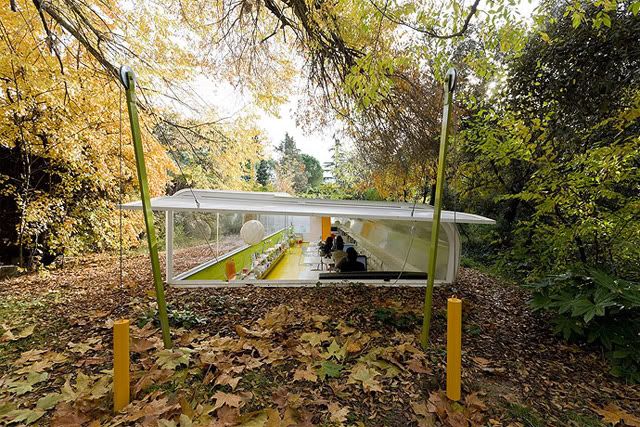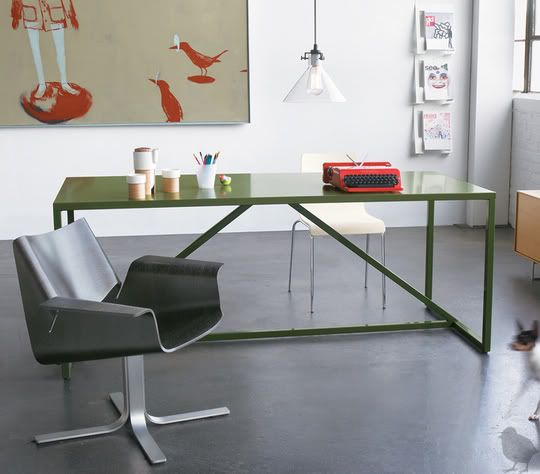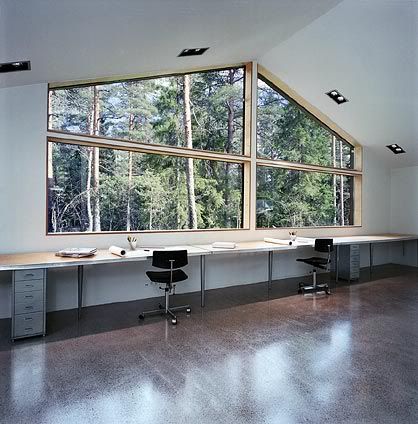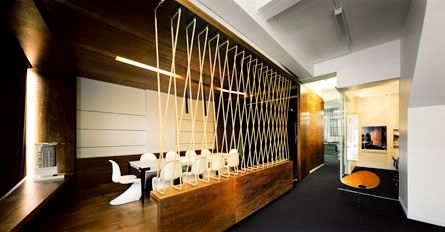 So now that I've wasted an hour finding those... and blogging about it....
I am still not decided on concept.
... I want something that can translate to these types of looks. Maybe "loft", but its a bit vague. I had thought of "global", incorporating different designs from different cultures and what-not. . . hard to explain without an image. OR the other idea I had was Venice/Italy/Gondola - the 'water' aspect would translate through the use of glass (aka the 1st picture sort of, I like how they used glass there) with rustic and historic looking things like the buildings would be. I could use stripes. :D. And bridges. But I don't want it to FEEL like Venice. Just be inspired by it. Modern Venice if you will.
Thoughts?
I NEEEEEED to decide completely and whole-heartedly like NOW.
Let me fill you in...
In 1 month....
I need to complete:
1. a concept statement
2. floor plans (upper and lower)
3. draw 4 elevations, 1 section of entire building
4. draw 1 perspective showing design in best possible way
5. create furniture board - chosen pieces to be illustrated/put together in an appealing way, labelled etc.
6. Colour & material board - must have actual materials, for ALL areas
7. Millwork drawing of reception desk; plan, elevations, section, specs, labels, finishes, dimensions etc.
8. Reflected ceiling plan - spec. all lighting types, create schedule, label all ceiling heights and finishes, both floors
9. sketchbook - used all the way through to show design intent/purpose/train of thought/ideas etc.
This is my plan of action:
- come up with STRONG concept (I am close to committing)
- space plan for functionality/adjacencies - upper & lower floors
- space plan design - add details, design interest, relate space to concept more
- layout furniture (research systems furniture, choose, research all items and have pictures and dimensions first)
- reflected ceiling plan - add some ceiling detail, choose luminaires, play with ceiling heights, whatever. Draw.
- Perspective drawing. Elevations drawings. Section drawings. All Manual. No CAD. I am mad about that. tripple the time...
- Colours and Materials - actually I should start the search for those now
- furniture board (probably the only thing on the list that COULD be done the night before IF I HAD to, which I am not planning on, but... y'know... just sayin'
- Millwork drawings - this CAN be done in CAD, so yippee! AAnd shouldn't take too too long. A day or 2 tops.
- Sketchbook - already started, and will continue to use tonnes as if they don't think it looks 'complete' they don't mark the project at all. Thats right.
So, I am looking for volunteers to come and stay with me for the month. Must be capable of:
a) doing laundry
b) reminding me when to shower
c) reminging me when not to blog
d) reminding me to sleep and, most importantly,
e) making me food
and, a bonus ability would be to keep my room somewhat liveable for the month. And possibly searching for a job for me come September.
Got it? K. Thanks.
Happy B.C. day!
Inspiration comes of working.
Imagination is more important than knowledge
The purpose of human life is to serve and to show compassion and the will to help others. Creativity is the ability to introduce order into the randomness of nature. Life is an exciting business and most exciting when it is lived for others. You cannot do much about the length of your life, but you can do a lot about its depth and width.
- As quoted by my green folder that holds papers.